January 30, 2015
ANNE PETERMANN, globalecology at gmavt.net, also via Jay Burney, jay at stopgetrees.org, @STOPGETREES
Petermann is coordinator of the Campaign to STOP GE Trees, Burney is media coordinator for the group. On Thursday the group released the statement: "Breaking: Outrage Over U.S. Secret Approval of Genetically Engineered," which says: "Groups from around the world today joined together to denounce the U.S. government for allowing the first genetically engineered tree, a loblolly pine, to be legalized with no government or public oversight, with no assessment of their risks to the public or the environment, and without regard to overwhelming public opposition to GE trees. …
"In 2013, when the USDA called for public comments on another ArborGen request to commercialize a GE Eucalyptus tree (a decision still pending), they received comments at the rate of 10,000-to-1 opposing the industry request. By simply refusing to regulate this new GE pine, the USDA has cut the public out of the process completely.
Background: The relevant government documents were brought to light by the Center for Food Safety earlier this week. See "New Genetically Engineered Tree To Avoid Federal Oversight Completely," which notes: "A genetically engineered (GE) tree may already be planted in field tests, and eventually be commercialized, in the U.S. without having gone through any regulatory oversight or environmental risk assessment. On January 13th, the U.S. Department of Agriculture (USDA) quietly posted its August reply to a letter from ArborGen, a biotechnology company that is developing GE forest trees for plantations, confirming that USDA will require no regulation of ArborGen's GE loblolly pine.
"This failure to regulate a GE tree is unprecedented. Other known GE forest trees in the U.S. are being grown in USDA-regulated field trials, and none has been approved for commercial planting. USDA regulation is important because it ensures that risk assessments are carried out to determine whether or not the GE tree will harm the environment before a decision on its commercialization. …
"'We are outraged at USDA's complete abandonment of regulatory authority,' said Andrew Kimbrell, executive director of Center for Food Safety. 'This GE tree has the potential to contaminate natural forests and impact whole ecosystems.  We are exploring legal options to stop the dissemination of ArborGen's unregulated GE loblolly pine, and to see that it and future GE trees are subject to the serious regulation and transparent risk assessment the public deserves.'"
Doug Gurian-Sherman, the director of sustainable agriculture and senior scientist at the Center for Food Safety also just wrote "The Next Phase of Genetic Engineering: A Flood of New Crops Evading Environmental Regulation," in which he states the USDA "is deliberately thumbing its nose at the public by refusing to enact the regulations it has been authorized to use."
November 18, 2014 by journalist ·
Whistleblowers from four American and British "national security" agencies will hold a news conference in London on November 21 in a direct challenge to surveillance policies of the U.S. and UK governments.
The whistleblowers — from the NSA, FBI, State Department and GCHQ — will speak about the effects of their governments' policies on freedom of the press and democracy. They are traveling as a delegation co-sponsored by the U.S.-based organizations RootsAction.org and ExposeFacts, a project of the Institute for Public Accuracy.
[more]
"With Super Bowl Sunday approaching, expect plenty of media reports on the projected economic windfall for host city Glendale, Arizona. Last year, when the NFL announced that its big game would provide a $600 million boost to the New York/New Jersey economy, that figure promptly became a fixture in news coverage of the event (CNN, 1/24/14; Newsday, 1/22/14; FoxNews.com, 5/21/14). …"
[more]
"Protesters wore shirts reading 'No Fast Track' and held signs stating 'Froman lies,' a response to the ambassador's recent claims that Fast Track is the 'best tool to ensure that Congress and the public have ample time to give our trade agreements the public scrutiny and debate they deserve.' Past versions of Fast Track legislation, including one introduced with little support last January, limits the amount of time Congress has to consider agreements and suspends their ability to make amendments to the texts."
[more]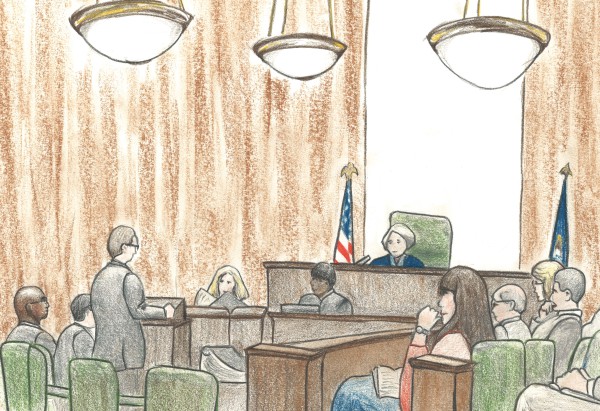 "The government engaged in a great deal of security theater during the Jeffrey Sterling trial, most notably by having some CIA witnesses — including ones whose identities weren't, technically, secret — testify behind a big office divider so the general public couldn't see the witness. But along the way, the government revealed a great number of secrets, including a number of secrets about how its counterproliferation programs work."
[more]